Poll of the Week Results: A Unibrow-raising Result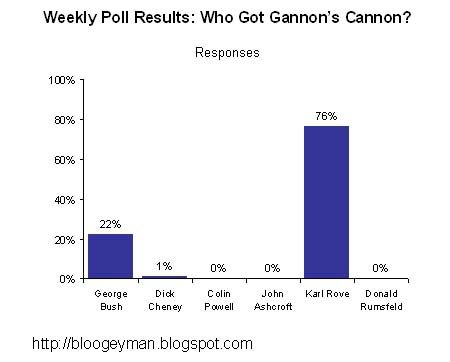 Well, here are the results of the first weekly poll. For background reading regarding this poll you should consult this expert study related to the poll question.
The Bloogeyman was frankly surprised that people seemed to zero in on two likely suspects. It was interesting to see that most of you picked Karl Rove as the most probable lead actor in this romantic comedy of sorts.
The interesting breakdown of the results caused this Bloogeyman to raise one eyebrow (maybe with the intent of looking mischievous, or maybe just because the Bloogeyman only has a unibrow to raise…). After putting his crack team of detectives on the case, the Bloogeyman was able to obtain further information on who actually participated in this online poll:
Yes, that's right – while most voters were just lazy employees wasting time at work, a full 7% of the votes were able to be tracked down to the computer that Karl Rove uses in the White House. It seems that when Karl saw that this poll wasn't swinging his way he promptly logged on and voted 13 times for George Bush and 3 times for Dick Cheney (got to spread the blame somehow, right?). The Bloogeyman should have known that Karl Rove is the ultimate boogeyman – hiding in the shadows of every event and lurking in the corner of every room.