Poll of the Week Results: Please State Your Nickname for the Record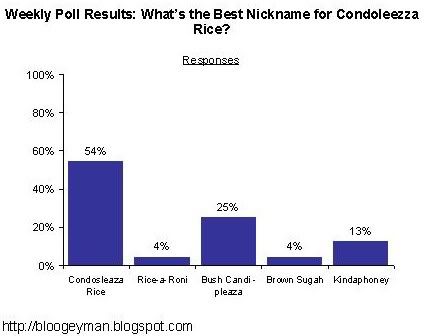 Well, here are the results from our 'pick a nickname' contest. How did I even come up with such a contest… you should
check out this post
in which the Bloogeyman takes an opinion columnist to task for suggesting Condoleezza Rice might deserve a Nobel Peace Prize (WTF?!?). Just writing that post got the Bloogeyman so worked up, muttering various unflattering names for Condi Rice, that he decided to make a contest of it and let you decide what Condi's nickname should be.
So, you all voted and…the winner is…'Condosleaza Rice' (in case you have trouble reading the complex graph above…or, unlike Ross Perot, just don't like reading graphs). Oh, I also forgot to mention that Condoleezza Rice agreed to abide by our decision and use our proclaimed nickname from now on.
Just kidding (I know, that really threw you guys for a loop…you're so used to the Bloogeyman being dead serious)
Ah, nicknames indeed – we all know that George Bush has a penchant for providing his own little nicknames…but what would George Bush nickname Condi? Well, the Bloogeyman knows because the only vote that 'Brown Sugah' got came from George Bush himself. You see, the Bloogeyman called up George himself, disguised as a 'reporter' from 'Talen News' service and asked him this very question. George seemed to think I was asking him a non-hypothetical question, since he quickly provided the "correct" answer. "Uh, that would be number D, Brown Sugah", he replied to my question.

The Bloogeyman was about to launch into a hard-hitting one-on-one interview with the President, but right at that moment I heard a knock and George said "Shit, I gotta go, that's Dick – I'm supposed to be reading this report". Oh well, now that I've got George's personal line (I found out the number for the large red phone that sits on his desk – I figure with the safety and security that George provides the Russians will never need to use the 'red line', right?). So, enjoy the results and don't be afraid for the Bloogeyman, intrepid reporter that he is, will surely call George back on the 'red line' and get an interview one of these days…