March Madness, Part 2: Bracket Breakdown - North
Welcome again to our coverage of March Madness. Last time, we presented some opening comments and let everyone take a look at the bracket. This time, the Bloogeyman is proud to present Gumby Bryant and Mad Johnnen – they will be helping us take a closer look at the bracket. First, we'll break down the bracket and look at each region – there's some exciting stuff going on here, and plenty of controversy – then we'll wrap it up by looking at the bracket as a whole along with some possible outcomes. Here's the 'North' region of the bracket, I'll let Gumby and Mad take it from here: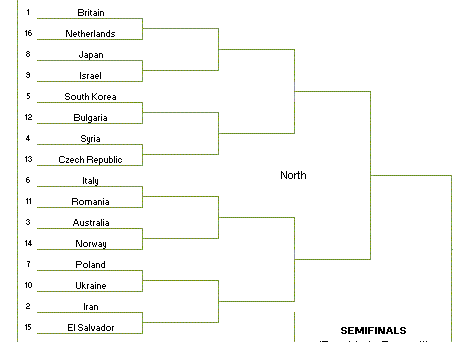 Oh, and if you haven't gotten the whole bracket yet, or haven't filled it out, here's the entire, printable bracket.

Gumby Bryant: Hello everyone, welcome to our iNCAA coverage. I'm Gumby Bryant…uh…no relation to Kobe…and here's my co-host, Mad Johnnen.
Mad Johnnen: Hiya everybody!
Gumby Bryant: Ok, Mad, let's get right into this, there's a lot of interesting things going on in this North region.
Mad Johnnen: Well, hold on for a minute, I think we need to first introduce the iNCAA tournament to everybody out there who just got into this – it's going to be an exciting tournament and we want everybody to play along!
Gumby Bryant: Ok Mad, take it away…
Mad Johnnen: The iNCAA tourney is pretty exciting because it's a 'last-man standing' tourney – we're looking at who has the most control over Iraq. Man, there are a lot of players and players who play a lot. The interesting thing about this tournament is that there really is no time limit – players drop out whenever. Basically, we update the bracket each year and during the year we follow the players at two-month intervals and then determine who has more control at the end of the round. For example, lets take a look at the 'North' region – the first round is over at the end of April. At that point we'll take a look to see who has more control, #1 seed Britain, or #16 seed Netherlands. Round two is over at the end of June, and so-forth.
Gumby Bryant: I'm sure we all know who's going to be out at the end of April in that match up! Remember, a #16 seed has never defeated a #1 seed in the history of the tournament – the Netherlands is going to get rolled.
Mad Johnnen: No objections here, Gumby. You know, when I first took a look at the North bracket I was amazed at how stacked this bracket is with the 'Coalition of the Willing' this year.
Gumby Bryant: Right Mad, but I was thinking they are more like the 'Coalition of the Willing-to-Bend-Over-and-Take-it-for-Uncle-Sam'!
Mad Johnnen: No objections here, Gumby. But, you gotta like some of the 'wildcard' players they threw in here…Iran, Syria, Israel. This could get really interesting.
Gumby Bryant: That's exactly what I was going to talk about – there was a lot of controversy over the fact that Iran got a #2 seed in this region – are they even playing in this tournament?
Mad Johnnen: Boy, that sure took people by surprise. Coach Howard of Australia was really miffed on this one – he was really hoping for a #2 seed. Not only did he not get that, he's potentially going up against Italy in the second round! I talked to some of my sources and here was the rationale behind putting Iran in this bracket and for giving them such a high seed. Basically, any way you look at it, Iran has a lot of influence, even control, in Iraq: Sure, they don't have troops on the ground but there have been a lot of reports about Iranian intelligence agents in Iraq.
Gumby Bryant: Right, and if you remember back in January, a British C-130 Hercules was shot down – some people say that Iran was behind that. You've got to be nervous if you're Coach Blair because you might have to go head-to-head with Iran to win the North bracket.
Mad Johnnen: Let's look at another pick that took everyone by surprise – Italy. Gumby, didn't Italy announce just a couple days ago that they were going to withdraw troops from Iraq by September? How did they get on the bracket, and how did they get such a high seed?
Gumby Bryant: Well, here's how I look at the situation: Sure, Coach Berlusconi announced a couple days ago that he was going to drop out of the tournament by September, but look what happened yesterday – he backtracked on that statement! Coach Bush (U.S. Army) called him up and twisted his arm...
Mad Johnnen: I bet he didn't have to twist hard…the U.S. hasn't owned Italy this much since they drove through Italy in a convertible during World War 2!
Gumby Bryant: …yeah, well I think that Italy will be there longer than September, but I know they're going to have to get by Australia if they want to stay alive past the second round.
Mad Johnnen: Now what about these other two surprises – Israel and Syria?
Gumby Bryant: Israel was a real shocker – Coach Sharon had publicly said that he didn't want to be on the bracket, but that didn't stop Israel from being placed…favorably, if I might add…
Mad Johnnen: Wait just a minute here, did you say that Israel has been placed favorably?
Gumby Bryant: Sure, just look at the top half of the bracket – Britain's a #1 seed right now, but I think Britain's position is kind of shaky. Coach Blair's been getting a lot of pressure lately and if he makes some move that indicates he'll be out of the tournament – or even some comments undermining the appearance of Britain's commitment to the tourney – I think there's an upset in the making. Everybody knows that Israel has a huge stake in the outcome of this tournament, and I think you're naïve if you don't believe they have some level of control in this process.
Mad Johnnen: So, let me get this straight: You think Israel will sail past Japan in the first round…
Gumby Bryant: The Japanese are a bunch of wet noodles…
Mad Johnnen: And then they have a chance at upsetting Britain…wow…that would be breath taking. In that scenario, what about a possible match-up against Syria in the third round?
Gumby Bryant: That's what makes the North bracket so interesting…I think that Israel would squeeze by Syria – that could potentially result in a 4th round match up against Iran.
Mad Johnnen: Wowza!
Gumby Bryant: That's right – this bracket has the potential to be a real powder keg of action. Good to have all you folks with us – let us know what your favorite picks are in the North bracket. Next time we'll take a look at the 'East' region of the bracket.